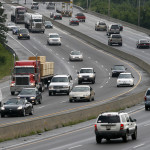 This Labor Day weekend promises to be one of the busiest travel weekends ever, so if you're going to be on the road, a little advanced planning will go a long way to ensure you have a safe and enjoyable trip.
The most important thing you can do this Labor Day weekend is to leave early. If it's possible, start your trip on early Saturday morning or well before rush hour on Friday. If you must drive on Labor Day, follow the same basic rules. Most travelers will try to get the most out of their last summer vacation and begin their return home in late afternoon or early evening. Plan on heading home before 3 p.m. or after 9 p.m. and you'll be glad you did.
It's also a good idea to know your route before you leave, including a few alternate routes in case you run into some unexpected trouble… and don't forget to bring along your GPS!  Do a little route research by going online and checking for road construction and travel weather forecasts. If you'll be traveling several days, it's a good idea to make your hotel reservations in advance. Don't expect to just pull into a hotel and find an available room on one of the busiest holidays of the year. There are several excellent websites devoted to the highway traveler, were you'll find everything from exit services (food, gas, lodging, camping, etc.) to traffic reports and construction info. Dedicated route websites include ones for I-95, I-75, I-10, I-5 and I-4.