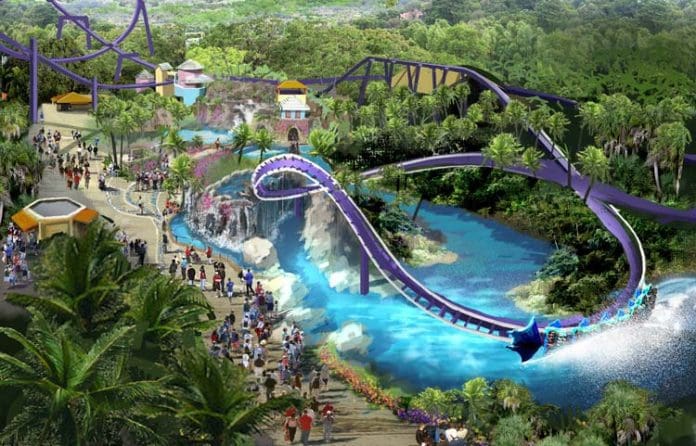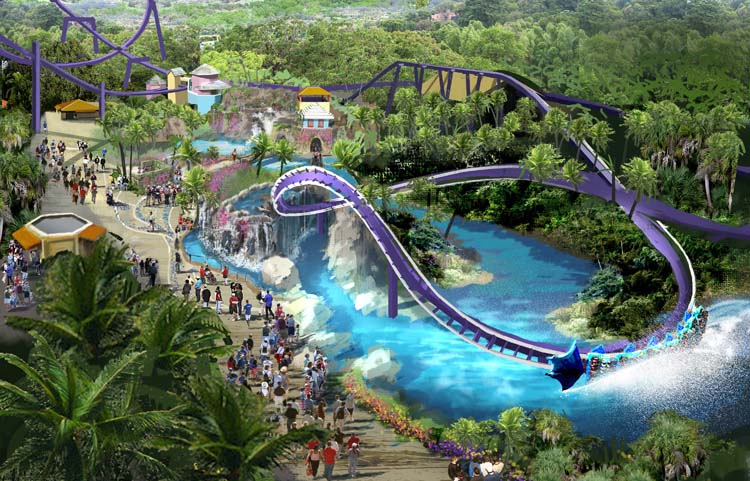 SeaWorld Orlando is a theme park, and marine-life based zoological park, in Orlando, Florida. When combined with its neighbor Discovery Cove and Aquatica, it forms Seaworld Parks and Resorts Orlando, an entertainment complex consisting of the three parks and many neighboring hotels and eateries.
Unlike most other theme parks, SeaWorld Orlando is not fully divided into dedicated themed "lands" or sections. There are instead individually themed attractions and select themed areas of the park including the following:
Main Entrance
The main entrance of the park features a Florida-inspired theme with lush tropical landscaping and a large artificial freshwater marina with a Shamu-themed iconic lighthouse. The theme of the main entrance area integrates into the nearby Key West at SeaWorld area with similar architecture and landscaping. The Manta attraction and aquarium exhibit is also near the main entrance area.
Key West at SeaWorld
Key West at SeaWorld is designed to mimic the appearance of the city of Key West, Florida with architecture and landscaping reminiscent of the area. Animal exhibits in this portion of the park include cownose rays, southern stingrays, green sea turtles, hawksbill sea turtle, loggerhead sea turtle, Atlantic bottlenose dolphins, greater flamingos, West Indian manatees, American alligators and brown pelicans. The stingray and dolphin habitats offer opportunities for guests to feed the animals.
Shamu's Happy Harbor
Shamu's Happy Harbor is a children's area hosted by Shamu, the park's killer whale mascot. The area is located adjacent to Shamu Stadium and features family activities including Shamu Express (a junior rollercoaster), a net climbing structure, and a water play area.
The Waterfront at SeaWorld
The Waterfront is the newest themed area of the park, the area resembles a seaside Mediterranean village and contains shops, restaurants, and a pearl dive exhibit, as well as the park's iconic Sky Tower ride which was integrated into the theme of The Waterfront village when the new area opened in 2003.
Wild Arctic
The Wild Arctic indoor pavilion serves as a combined attraction which includes a motion simulator or film followed by an indoor animal exhibit hosting Polar bears, Beluga whales, and Pacific walrus. The area is themed after an exploration base camp located in the cold elements of the arctic with features including ice walls and a sunken ship trapped in ice that leads to an underwater viewing area of the animal exhibits.
Reserve Your Room Now! – Seaworld Area Hotels
This article uses material from the Wikipedia article SeaWorld Orlando, which is released under the Creative Commons Attribution-Share-Alike License 3.0