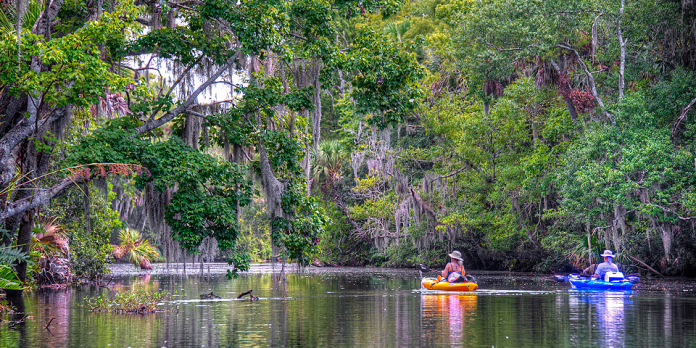 Daytona Beach, with its 23 miles of Atlantic shoreline and legendary beach racing history, conjures iconic images of the Florida outdoors: breathtaking beaches, oceanfront accommodations and family fun. Today's Daytona Beach, though, offers that and more. Located on Florida's east coast, an easy drive–just an hour away–from nearby Orlando, St. Augustine and the Kennedy Space Center, there are a host of ways to enjoy the outdoors.
The area's renowned beaches are only the beginning. A multitude of activities along a variety of inland waterways and amid diverse natural areas makes Daytona Beach an exceptional outdoor destination all year long. Summer is a natural time for outdoor fun but the coastal breezes of spring and fall and moderate winter temperatures make these activities popular any time of year.
Fishing, of course, is a favorite here, whether pursuing a big game catch, trolling just offshore or casting on the inland waters. There are charter options like On the Hook Charters (Daytona Beach, Florida 32118; 386-631-8030) with experienced captains who know how to find the big ones. Other popular water activities include exploring the inland waters by paddleboard, kayak or taking an eco-tour to watch dolphins play and learn more about the species and habitats of the area. Ponce Inlet Watersports (4936 South Peninsula Drive, Ponce Inlet, Florida 32127; 386-405-3445) offers board and kayak rentals as well as eco-tours that cruise the back bays and intracoastal waterway.
On land, an impressive collection of public parks offers free parking and beach access along with picnic areas, playgrounds and more. State parks add a variety of adventure. Tomoka State Park (2099 North Beach Street, Ormond Beach, Florida 32174; 386-676-4050) is great for birding, boating and camping along the Halifax River. Further inland, Blue Spring State Park (2100 West French Avenue, Orange City, Florida 32763; 386-775-3663) is home to the largest spring on the St. Johns River, a crystal clear, 73-degree designated Manatee Refuge.
In Daytona Beach and throughout Volusia County, visitors also find a variety of trails for outdoor adventures. Ormond Loop is a favorite for cyclists as well as those who want to enjoy the old-Florida oak canopy of this 30-mile scenic drive that skirts the Halifax River. The county's Parks and Trails App is a valuable resource.
Daytona Beach is an excellent golf destination, ranked among the top 15 places to play golf in the U.S. There are nearly 20 courses from which to choose, for year-round play, including the LPGA International (1000 Champions Drive, Daytona Beach, Florida 32124; 386-274-5742), headquarters of the Ladies Professional Golf Association (LPGA).
Many visitors love to take in Daytona Beach from above, gliding above the beach with Daytona Parasailing (4936 South Peninsula Drive, Ponce Inlet, Florida 32127; 386-547-6067) or traversing through the trees of Tuscawilla Park with Daytona Beach Zipline Adventure (1000 Orange Avenue, Daytona Beach, Florida 32114; 386-882-8016).
Where to stay
With its more than 200 properties, Daytona Beach has always had vacation accommodations to fit every need. Just within the last year, several new properties have opened, adding to options on the beachfront and beyond.
Amazing new upscale additions to the Daytona Beach oceanfront lodging options include the four-star Hard Rock Hotel Daytona Beach (918 North Atlantic Avenue, Daytona Beach, Florida 32118; 386-947-7300) and the Delta by Marriott Daytona Beach (2505 South Atlantic Avenue, Daytona Beach Shores, Florida 32118; 386-366-8515) and the Daytona Grande Oceanfront Hotel (422 North Atlantic Avenue, Daytona Beach, Florida 32118; 386-271-7979).
Additional properties added with well-known flags include the 112-room Comfort Inn & Suites Daytona Beach Oceanfront (103 South Ocean Avenue, Daytona Beach, FL 32118; 386-252-2378), the 93-room Home2 Suites by Hilton Ormond Beach Oceanfront (711 South Atlantic Avenue, Ormond Beach, Florida 32176; 386-677-4712) and the 107-room Home2 Suites by Hilton Daytona Speedway (200 Fentress Boulevard, Daytona Beach, Florida 32114; 386-400-2300).
ONE DAYTONA, the world-class dining and entertainment complex across from the Daytona International Speedway, is home to two new properties: the Fairfield Inn & Suites Daytona Beach Speedway/Airport (1820 Checkered Flag Boulevard, Daytona Beach, Florida 32114; 386-254-4700) and The DAYTONA (1870 Victory Circle, Daytona Beach, Florida 32114; 386- 323-9777), an exclusive Four-Diamond Marriott Autograph Collection® hotel.
If you go
There are trails of all kinds to take in during a trip to Daytona Beach. Make time for these additional Daytona Beach area adventures: Ale Trail, Motorsports Trail, Iconic Trail, African American Heritage Trail and the Monument and Statue Trail.
---
On the road? Why not take us with you. All our websites are mobile-friendly. Visit our growing family of exit guides: I-4 Exit Guide, I-5 Exit Guide, I-10 Exit Guide, I-75 Exit Guide, and I-95 Exit Guide. Detailed exit service listings… discount lodging, camping, food, gas and more for every exit along the way!